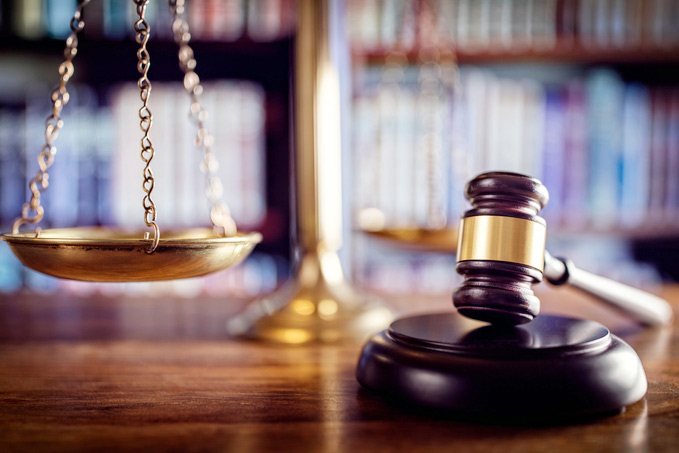 Feds Institute New Regulations on Sanitation of Transported Food
February 20, 2017
The U.S. Food and Drug Administration's (FDA) new food safety rule is expected to go into effect in June 2017 and will add new layers of protections and quality assurances on commercially transported foods.
Called the "Sanitary Transportation of Human and Animal Food," the act is designed to "protect foods from farm to table by keeping them safe from contamination during transportation" and also to "prevent practices during transportation that create food safety risks, such as failure to properly refrigerate food, inadequate cleaning of vehicles between loads, and failure to properly protect food," according to the FDA.
The act was entered into the Federal Registry in June 2016, making it official. It will become effective for large businesses on June 1, 2017 and for small businesses on June 1, 2018. The FDA defines small businesses as non-carrier businesses with fewer than 500 employees or carriers with less than $27.5 million in annual revenue.
The bill is part of the 2011 Food Safety Modernization Act and applies to shippers, receivers, loaders and carriers that transport food in the United States in motor vehicles or by rail.
"The rule builds on safeguards envisioned in the 2005 Sanitary Food Transportation Act (SFTA)," the FDA states. "Because of illness outbreaks resulting from human and animal food contaminated during transportation, and incidents and reports of unsanitary transportation practices, there have long been concerns about the need for regulations to ensure that foods are being transported in a safe manner."
The rule establishes sanitary standards for those involved in transporting food to ensure sanitary practices are being implemented. Food transported by ship and air are exempt.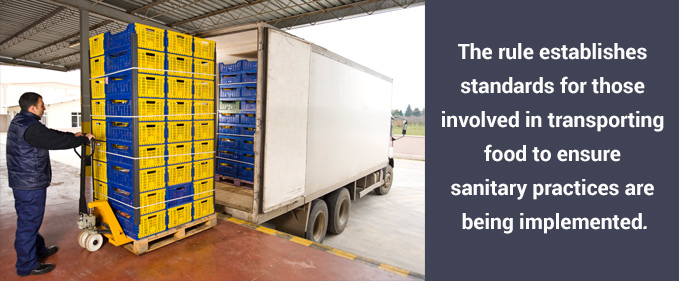 Here are some of the rule's requirements, according to the FDA:
"Vehicles and transportation equipment must be suitable and adequately cleanable for their intended use and capable of maintaining necessary temperatures for the safe transfer of food;
"Taking measures to ensure food safety, like adequate temperature controls, preventing contamination of ready-to-eat food from touching raw food, and protection of food from contamination by non-food items in the same or previous load and protection of food from cross-contact;
"Training carrier personnel in sanitary transportation practices and documentation of training, which is required when the carrier and shipper agree that the carrier is responsible for sanitary conditions during transport;
"Maintenance of records of written procedures, agreements and training, with required retention time for these records dependent upon the type of record and when covered activity occurred but not exceeding 12 months."
ABCO Travels Ahead of Its Time
We at ABCO Transportation are proud to announce that we are already fully compliant with provisions of the new rules.
ABCO Transportation has an extremely successful track record of shipping refrigerated freight in our reefer units since 1993, employing the latest and most advanced technologies to keep abreast of federal guidelines and to ensure our clients receive the highest quality products available in the industry.
Our cutting-edge technologies enable ABCO drivers to monitor freight temperatures in transit and during delivery through a network of sensors monitoring fluctuations.
Ensuring Safety with Sensors
Our web of sensors allows drivers to track internal and external temperatures and humidity levels with real-time precision. Our systems monitor outside adverse temperature extremes and make automatic adjustments if necessary. One example: our drivers are alerted if a reefer unit's compressor has an improper discharge pressure or if coolant temperature varies.
Customer Oversight
Our customers want to know if their refrigerated freight is being shipped properly and will arrive on time. Our GPS-based systems enable our customers to track their freight from pickup to delivery and give customers the ability to see exactly where their shipment is at any given time. We also provide our customers with records showing exactly the temperatures of the reefer units that were maintained during the trip.
When it comes to our customers and food safety and preservation, we don't play games. Our business is all about providing the highest quality service and the most attentive monitoring of shipments in the industry.
Here at ABCO Transportation, we put safety first, both for our drivers and for our refrigerated freight. If you'd like to learn more about our services, contact us today.