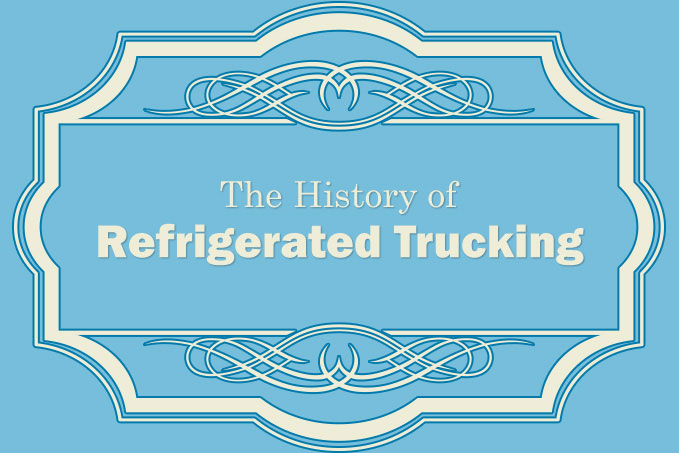 The History of Refrigerated Trucking
March 23, 2015
Shipping freight is no easy task. Shipping freight that is time and temperature sensitive is an even more difficult task. However, that difficult task is our specialty!
ABCO Transportation cares about your freight. We want to ensure that your freight will be delivered on time and will maintain its integrity. Have you ever wondered how refrigerated trucks were created? Read more below to learn the brief history of refrigerated trucking and how temperature controlled semi- trailers have evolved.

Origins of Refrigerated Trucking
Refrigerated freight has come a long way over the last hundred years. Since the late 1800s people have been trying to find the best ways to ship perishable goods while maintaining the proper temperature. Originally using chunks of ice to preserve fish stock piles, the methodology of refrigerated shipping had its start.
Evolution of Refrigerated Trucks

Somewhere around 1930 the first commercially used versions of mechanically cooled trucks were beginning to hit the roads. These trucks were designed in many different variations but were not yet built as a separate truck and trailer that you see on the roads today. By the late 1930's refrigerated trailers ranging from 38 to 40 feet were being introduced to the market. Modern reefer trailers are usually between 48 and 55 feet in length.
In 1939 Fred Jones was tasked with helping Joe Numero in adapting a refrigerated cooling process for the tractor-trailer. This invention later became known as the Thermo King and helped revolutionize the emergence of the supermarket we know today. This was the beginning of attaching a refrigeration unit to the outside of the trailer to cool the contents inside.
By 1940 there were over 18,000 refrigerated road vehicles being used with around 2,500 of those units being mechanically cooled. With the implementation of the interstate highway act of 1956, the trucking industry experienced rapid growth and continued to increase the number of reefer trucks on the road.
Technology In Cold Chain Logistics
In cold chain logistics, technology is more important than in any other logistics chain. The high level of integration is important because every step of the process needs to maintain temperature integrity. The need for technology stems from a very high level of control that is needed throughout all processes involved. This becomes even more important because most food that needs to be transported in temperature sensitive conditions is also prone to bacterial, microbial and fungal contamination. In addition to food, medical supplies and medications need to maintain proper temperature during their transportation to not destroy the integrity of the item.
ABCO Transportation is your professional choice for shipping refrigerated freight. We know how important it is that we maintain the integrity of your products. If you have freight you need to ship, contact us. If you would like to learn more about what we do, follow us on our social media channels.
Connect with us on: